Berita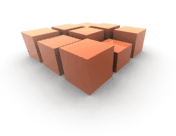 Getting Closer With International Brands at FLEI 2017

Tanggal : 2017-08-04






| | |
| --- | --- |
| | 9Round From USA " 30 Minute Fitness Kickboxing Workouts" 9Round offers a complete kickboxing workout that guarantees results. Each 30-minute session consists of nine challenging stations that include boxing, kickboxing and mixed martial arts in a full- body circuit format |
Chicken Treat from Australia " Great tasting, indulgent food to keep customers fuelled up & on the go
In 1976, Frank Romano opened the first Chicken Treat restaurant in Western Australia. Now in its fourth decade of operations, the Chicken Treat network has expanded to over 60 restaurants across Western Australia and is now expanding into international markets.
Periwinkle from the Philippines "Specialty Childrenswear to Celebrate Childhood
Periwinkle is the birth child of over 30 years of expertise in classic and contemporary childrenswear creations and design. The brand offers a selection of children's wear from ages 3 months to 14 years old, with products for both girls and boys. Its collections vary from simple casuals with dainty details to formal festive wears, blending traditional silhouettes with contemporary designs and styling.