Event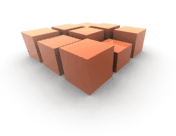 International Franchise, License & Business Concept Expo & Conference (IFRA) 2012
Organisasi Pelaksana : DEBINDO
Tanggal Pelaksanaan : 1-3 juni 2012
Lokasi Event : Plenary & Main Lobby Hall Jakarta Convention Center, Indonesia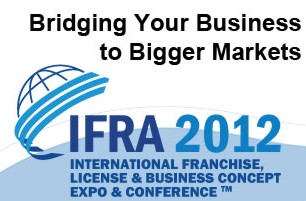 Welcome to IFRA 2012



INTERNATIONAL FRANCHISE, LICENSE & BUSINESS CONCEPT EXPO & CONFERENCE 2012 (IFRA 2012)

Expanding business networks to new markets requires more than just planning on paper. Make it real through IFRA 2012, where direct interactions with visitors will lead to more business, more profit, and more customers to serve with new partners.

The seventh in its series, IFRA 2012 opens up the way for your business to ASEAN'S biggest consumer market, Indonesia. Take part in IFRA 2012 and take the lead into new customer base.


IFRA Facts & Figures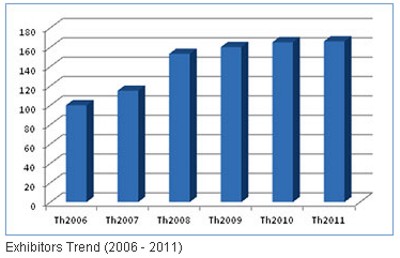 Facts You Should Know
IFRA is the biggest franchise tradeshow series in Indonesia since 2006 with regular participation, cooperation and support from foreign associations including Franchising and Licensing Association of Singapore (FLA), Philippine Franchise Association (PFA), Malaysian Franchise Association (MFA), and Australian Trade Commission, to name a few.
More than just expo, IFRA is consistently complemented with a series of daily events including Business Clinic, Product Presentation, Talk-show and Seminar, allowing for more opportunities for promotion and business networking.
Unlimited type of products and services as far as the Indonesian and international laws permit. For optimal focus and exposure, international pavilions are prepared forforeign franchisers and business owners.
IFRA is a booster to the rapid growth of franchise business in Indonesia as is shown by the jump in franchise revenues that reached Rp 114 trillion in 2010 compared to that of previous year at Rp 81 trillion. Likewise, Indonesian franchise outlet reached 40,000 outlets in 2010, compared to 31,000 in the previous year.


General Information


TITLE
International Franchise, License & Business Concept Expo & Conference (IFRA) 2012
DATES & TIMES
June 1 - 3, 2012 | 10.00 am - 09.00 pm
VENUE
Plenary & Main Lobby Hall Jakarta Convention Center, Indonesia
FREQUENCY
Annual
ENDORSED BY
Indonesian Franchise Association
SUPPORTED BY
iB Syariah

Bank of Indonesia

Ministry of Culture and Creative Economy Republic of

Indonesia

Ministry of Trade Republic of Indonesia

Franchising and Licensing Association (Singapore)

The Malaysian Franchise Association

The Philippine Franchise Association
ORGANIZED BY
DEBINDO MITRA DYANTAMA

www.debindodyantama.com/

Floorplan

klik disini untuk download floorplan


Contacts and Registration

PT Debindo Mitra Dyantama

The City Tower lt.7

Jl. MH. Thamrin 81, Jakarta - Indonesia


Phone : +62 (21) 3199 6167
Fax : +62 (21) 3199 6170
Email : info@ifra-indonesia.com


Contact Person

Mr. Ardian : +62 813 1465 8848
Ms. Novit Cahyani : +62 815 110 256 20

Event Lainnya
Semarang Business & Entrepreneur Expo 2015
Tanggal : 14 - 19 Mei 2015 Pelaksana : Aqsha Organizer

Semarang Business & Entrepreneur Expo 2015 merupakan rangkaian acara hari jadi Kota Semarang dengan menghadirkan beberapa produk waralaba yg diharapkan dapat menjadi motivasi


The 13th IFRA 2015
Tanggal : May 29 - 31 - 2015 - Friday - Sunday Pelaksana : Dyandra Promosindo PT

Connecting Your Business Networks to ASEAN's Biggest Market


National Roadshow IFBC Expo 2015
Tanggal : Jakarta,13 - 15 Maret 2015 Pelaksana : PT. NEO EXPO PROMOSINDO

Pameran Waralaba, Bisnis & Peluang Usaha Di Indonesia


The Secret Methods Of Transforming Your Business
Tanggal : Kamis, 12 Maret 2015 Pukul 13.00 - 18.00 WIB Pelaksana : SBC Action Coach

Lebih dari setengah Pengusaha bekerja mati - matian menjalankan bisni, tanpa mendapatkan profit & gaya hidup yg diinginkan


Business Excellence Forum
Tanggal : Rabu, Kamis & jumat, 06-07-08 Mei 2015 Pelaksana : action coach

SUDAH SIAPKAH ANDA MENGHADAPI PASAR BEBAS ASEAN 2015?