Event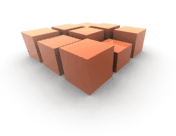 Franchise & Licence Expo Indonesia 2013
Organisasi Pelaksana : Reed Panorama Exhibitions
Tanggal Pelaksanaan : 6 - 8 September 2013
Lokasi Event : Assembly Hall Jakarta Convention Center





Overview

With the growing surge of interest, the progress of the Trends for Businesses and experiencing exponential market growth, Franchise and License Indonesia Expo 2013 is again brought to you for the 11th consecutive year, to bring together emerging franchise industry and business brands packed with more beneficial programs, aimed to give a better understanding of the industry, maximize total number of visitations the profit of the exhibitor.

Join hundreds of franchisor and business owners and meet thousands of qualified prospects. The expo offers franchisors an opportunity to meet entrepreneurs looking to start or buy a business, potential partners, suppliers, customers and investors.

Whatever you are selling, franchises, businesses, finance, advice and more, you will find the expo will help you at every stage of the sales process, including qualify your leads, build strong business relationships, provide detailed information face-to-face to the customers.

We are honored and would like to place on record and express our deep sense of gratitude for a very timely and continued support given by The Chambers of Commerce (KADIN) and Indonesia Franchising and Licensing Society (WALI) that have invigorated us performing better to make the Franchise and License Indonesia Expo the total Franchise solution.

Franchise & License Indonesia Expo has held successfully for 10th editions since 2003 and it has expanded enormously. Now, the expo will take place from 6th until 8th September 2013 at Assembly Hall, Jakarta Convention Center. Over 3 days, it will bring together the entire business sector over more than 4500 sqm and expected to attract more than 10.000 visitors.

General Information
| | |
| --- | --- |
| Edition | : 11th |
| Event Type | : Trade and Consumer |
| Date | : 6th - 8th September 2013 |
| Venue | : Assembly Hall Jakarta Convention Center, Indonesia |
| Opening Hours | : 10 am - 9 pm |
| Frequency | : Annual Event |
| Size | : 4,600 sqm |
Who Should Exhibitt
• Advertising/ Photography
• Automotive Services & Products
• Business Consultant
• Business Services
• Computer/ Internet/ Game Center
• Courier & Cargo
• Educational Institution
• Entertaintment
• Fashion
• Furniture
• Health/ Sport/ Fitness Center
• Jewelry
• Laundry & Dry Cleaning
• Mini Cinema
• Motorcycle Services & Products
• Multi Level Marketing
• Personal Care & Beauty
• Printing/ Copying/ Refill Center
• Property & Real Estate
• Recreation & Hobby
• Restaurant/ Cafe (F&B)
• Retail
• School & Educational Institution
• Security &Surveilance
• Telecomunication/ Technology
• Tour/ Travel/ Tourism
Why Should You Exhibit

| | |
| --- | --- |
| • | A chance to meet and establish business contacts with over 10.000 visitors in just 3 days |
| • | Promote and launch new products, allowing visitors to see, feel and touch your products and thus a better understanding of their quality |
| • | Enhance your brand recognition and awareness, and strengthen your presence in the marketplace |
| • | Learn and share knowledge on the latest developments and trends in the industry |
Please visit our website at www.franchise-license-expo.co.id for more information.


Contact Us :
Mr Sendy Maihenda
PT Reed Panorama Exhibitions
Panorama Building 5th Floor
Jl. Tomang Raya No.63, Jakarta 11440, INDONESIA

Tel
: +62 21 2556 5032
Fax
: +62 21 2556 5040
Email
: sendy.maihenda@reedpanorama.com
Supported By
Event Lainnya
ASIA's BIGGEST 4-in-1 FRANCHISE EVENT
Tanggal : JUNE 10-14, 2015 Pelaksana : PHILIPPINE FRANCHISE ASSOCIATION

The Philippine economy has been on the upswing for several years now and the country is expected to be one of the largest world economies in the next 30 years. With this surging prosperity and the growing consumer class, the Philippines can be a profitable market for your franchise brand.


Schedule Lokakarya Freddway International Learning Oktober 2014
Tanggal : Oktober 2014 Pelaksana : Freddway International Learning

Strategi Peninjauan Gaji & Menghitung Budgetnya, Adminstrasi Perkantoran, Time Management Skill For Leader


Jakarta Waralaba Expo
Tanggal : 3 - 7 Desember Pelaksana : NEX organizer

NEX Organizer bekerjasama dengan Mall Mangga Dua Square, Menyelenggarakan event bertajuk " Jakarta Waralaba Fair "


The National Franchise Expo
Tanggal : 14 - 16 November 2014 Pelaksana : BE Production

Solo merupakan kota yg cukup dikenal masyarakat Indonesia maupun untuk kawasan international ini dikarenakan Solo memiliki byk potensi yaitu dibidang perdagangan, investasi pariwisata & kebudayaan


info Event Training ISO 9001 : 2008
Tanggal : 29 - 30 Oktober 2014 Pelaksana : ARSUL Consulting

Indonesia berpacu dengan waktu untuk menyambut pelaksanaan pasar bebas Asia Tenggara atawa sering disebut Masyarakat Ekonomi ASEAN (MEA) 2015. Saat itu tiba, ada 12 sektor usaha yg akan dibuka bebas untuk investor asing dari tetangga.