Featured Event

Event Franchise, Bisnis dan Entrepreneurship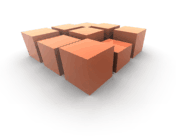 Info Franchise & Business Concept Expo 2020 - Jakarta
Organisasi Pelaksana : Neo Organizer
Tanggal Pelaksanaan : 13 - 15 Maret 2020
Lokasi Event : Balai Kartini, Jl. Gatot Subroto Kav. 37 Jakarta Selatan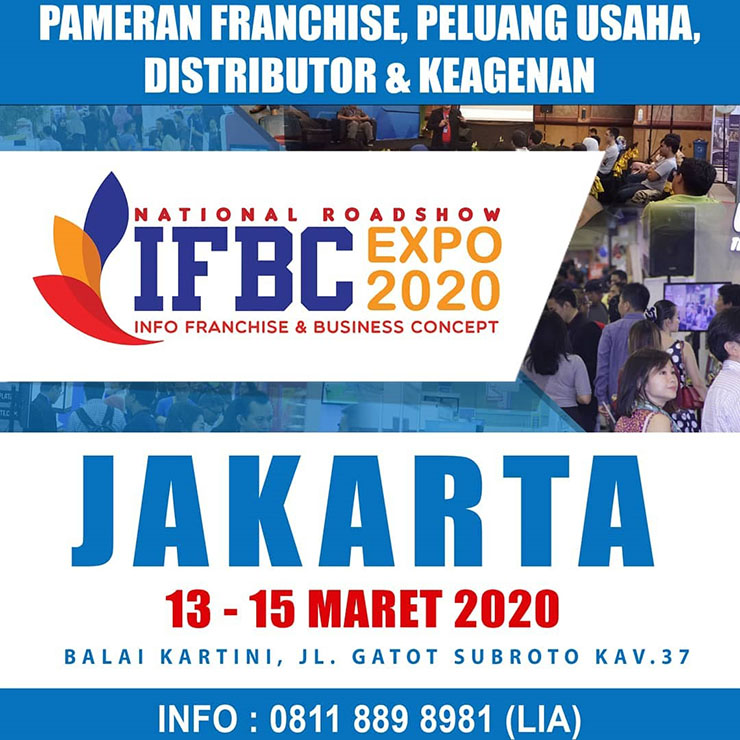 This is an entrepreneurial age. The spirit of an entrepreneur reflects in the ability to identify opportunities and transforming from what is merely an idea into practice. That 'passionpreneur' gives significant impacts, and will positively influence people's lives. Entrepreneurship always plays important roles in Indonesia economic development, especially because of its significant number. Enterpreneurs rise powerful driving force for national economic ambience. Moreover, entrepreneurs create wealth through innovation, transforming ideas into products and services, provide jobs opportunities, enhance national income, knowledge transfer, changing preference and lifestyle.
Indonesia is currently enjoying its fairly economic stability with GDP growth 5% despite global economic slowing down. At this very moment, the political tension has passed, stronger currency, series of infrastructure development give fresh optimism for Indonesian. In the upcoming quarter, the new government programs are expected to accelerate Indonesia's development and narrowing inequality. One of the major task is to increase ratio of entrepreneurs, furthermore helping and cultiving current entrepreneurs into substantial level, preparing the readiness to face the industry 4.0.
National Road Show Info Franchise Expo 2020 enthusiastically embrace the spirit of entrepreneurship in every sense of words. This year, Road Show IFBC Expo 2020 will be held in five emerging cities in Indonesia with a good will to contribute economic growth to the greatest possible extent. IFBC 2020 connecting opportunities, entrepreneurs and investors in order to create business ventures. Targeted to be attended by 30.000 visitors all over Indonesia, and supported with comprehensive promotion program, IFBC Expo 2020 remain to be a great platform to expand your business.
WHY EXHIBIT WITH US?
Info Franchise & Business Concept Expo 2020 has been held for 13 consecutive years, covering the complete spectrum of franchise, license and other related business concept
Info Franchise & Business Concept Expo 2020 is designed for business where the forum includes key decision makers, specifiers, investor, professionals and all people that really matter
Info Franchise & Business Concept Expo 2020 educate public in benchmarking the business model, experiencing the pursuit of business knowledge, learning the latest franchise update and related regulations, and also discovering the real meaning of entrepreneurship
Info Franchise & Business Concept Expo 2020 is the only franchise roadshow held notionwide in all major cities in Indonesia, as a meeting point where people can interact face to face to produce spectacular deals
Info Franchise & Business Concept Expo 2020 Exhibition, Workshop & Seminar is expected to attract more than 30.000 visitors all over Indonesia
THE BENEFITS
Meet thousand of potential customers
Expand partnership and collaborative projects
Showcase the full product range in real life
Get immediate feedback on products and services
Boost and accelerate sales transactions
Enhance company profile in the industry and add value to brands
Launch new products and generate media interest
VALUE ADDED PROGRAM
Business Matching
Business Clinics
Workshop
Talkshow and
Product Presentation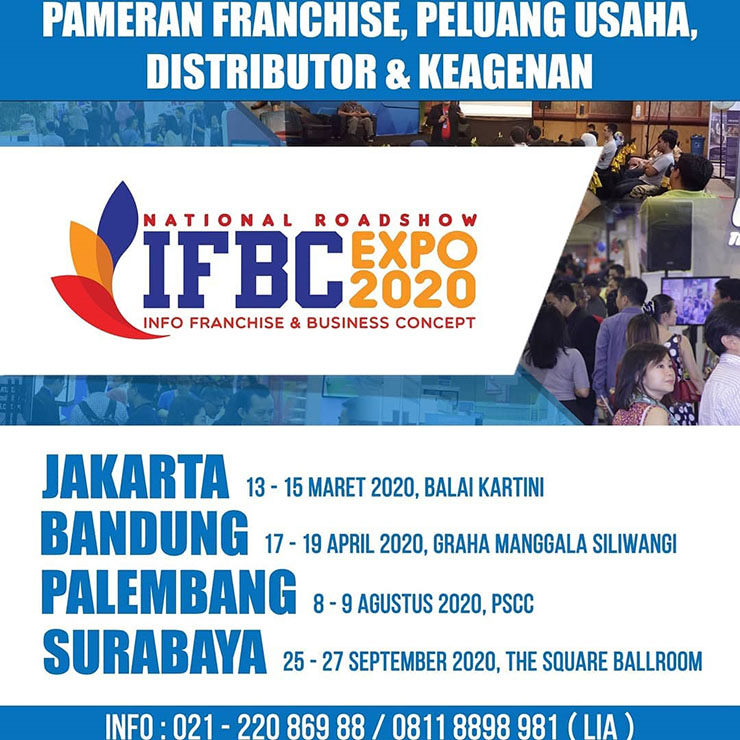 SPONSORSHIP OPPORTUNITIES
If you would like to increase your company value at this prestigious exhibition or in a specific associated event, IFBC Expo provide numerous benefits from the sponsorship opportunities. Your company logo will be featured in our promotional material and in site signages. We will carry your company name in all of our branding activities.
There are many cost effective sponshorship packages that would suit your needs. We will help you choose promotional features that will best serve your business needs and aid in branding your company image. Please contact the organizer for further details.
CONTACT US
PT NEO EXPO PROMOSINDO
Ruko Malaka Country,
Jl.Malaka Merah III Kav.29D No.4, Pondok Kopi, Duren Sawit, Jakarta Timur 13460
Phone: +62-21- 2208-6988
Hotline: 0811-8898-981, 08111-7474-84
Email: expoinfofranchise@yahoo.com
Facebook: @neo.expo
Twitter : @neoexpo
Instagram: @infofranchiseexpo
www.infofranchiseexpo.com
Event Lainnya